Uncategorized
Needed to share this…
Damn right it can be done! Even in the midst of recessionary times…
We have a hand in helping several law practices growing a law practice to boutique-sized powerhouses. It is a great time for growing a law practice when many costs are low, associate lawyers will sign most any agreement, yet legal issues continue —unabated no matter the cyclical downturn of the economy.
There are some Eeyore Lawyers out there bemoaning the soft economy of 2008 – 2013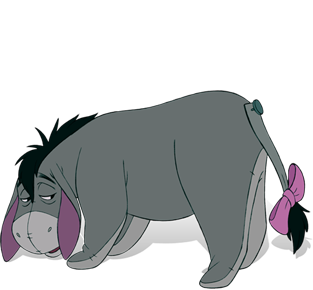 We speak to lawyers daily. Beginning the fourth quarter of 2007, we started hearing a lot of grumbling and complaining from some lawyers who's case load began a downward spiral. Many of these lawyers were servicing clients performing legal chores that good economies support including: business law, entity creation, partnership agreements, tax law, estate planning, real estate law, etc. Their Eeyore stories were echoing a common theme: they were waiting for their office leases to expire so they could reduce their square footage, or move to a less prestigious office. Other lawyers actually entirely dumped their leased offices and retreated to working from home with the use of an occasional Regus meeting room for those clients who insist on meeting their lawyer outside of jail, Starbucks, etc. [Eeyore is a trademark of Disney Enterprises, Inc.]
Many attorneys shared that they were forced to "let go" new associates and paralegals to return to solo practice. So sad. A good percentage of these depressing stories came from criminal lawyers who shared with us that criminal defense clients who could hire a private lawyer in past years by tapping into a home equity line-of-credit or new 2nd trust deed loan to pay for a $40-60,000 jury trial could not get their hands on that kind of money because those financial tools had all but gone away with the mortgage meltdown and successive years of continued no-loans-for-anyone fallout. Not only did this dramatically affect criminal lawyers' cash flow, it resulted in criminal defendants settling on over-worked, less-caring, sometimes sub-par "court-appointed" legal representation and paid for it with both longer incarcerations and larger fines.
Growing a law practice into a Boutique-sized law firm:
A Focused Niche Website & PPC Campaign
We have several law firm clients who are growing their practices from solo and 2-lawyer shops on the way to a dozen counselors by adding associates and paralegals to their firms as soon as a new niche market website (sometimes called a "marketing website") is launched which will fill the pipeline with new clients for the new associate and paralegal team. We are talking about quarterly growth – not "over the years." lawSITES.PRO's part in the process is to research the niche, design and launch a website; design and build a PPC campaign. While we can accomplish those tasks in a single month, we have multiple clients on the "shop floor" at any given time and 90 days is a more realistic work space for creative design and deployment if you would like to work as partners to grow your practice with up to four niches per year.
Do you think that is wishful thinking? This is working well in over-saturated markets with too many lawyers and lots of competition. If you are in a moderate region your star could be rising on the extreme. The key is deciding what niche markets you are skillful at and choose to go after; that you have the talent ready to come aboard; and you have a website scheduled to promote that niche and turn website visitors into new clients and cases. A Pay Per Click marketing campaign can and will bring a sufficient stream of clients in the door to not only pay the freight on one or two additional professionals (eg. lawyer and paralegal) but can actually make a nifty profit center from that vertical niche virtually immediately. NOTE: Speaking as the author of this article, I just know there are lawyers reading this with eyebrows raised and might be scoffing: "Naw, that won't happen." Yes counselor it does. Often with our clients. I wish I could list our clients who are consistently doing this and doing it well. "There's gold to be harvested in them thar hills…"
Solo law practices have it the hardest in growing a law practice with limited resources
Solo legal shops have the toughest climb but the most to benefit from growth and the blessings that can result by the adding of staff such as an accounting and collections person, a full-time receptionist, and a new paralegal or two. If you are operating a solo practice and you've landed a good settlement check here and there to where you have some wiggle room in your finances, all you need to do is to chart a course, finance a niche website, pencil in a reasonable monthly PPC budget, and strike a deal with a potential new associate and paralegal. Sure… if you are personally well-versed in a 2nd, 3rd, or 4th legal niche, such a niche marketing effort built around a new niche-website and PPC campaign can feed more clients and cases to you as the solo-practitioner, but that is more about "growing your bottom line" than "growing a law practice" by adding to the numbers and case capacity.
When you are considering growing a law practice from a starting position where you have 3 or 4 lawyers and a similar number of paralegals, you are already at that plateau where you are taking advantage of the economies of scale that a solo shop simply cannot. Having 6 to 12 people in a firm is often the tipping point where regularly adding new associates and niche law services can be accomplished quarterly or bi-annually without dipping into savings or reserves to grow the practice on its way to a full-blown boutique law firm.
---
We'll help research a niche, develop a niche-website, and launch a PPC Canmpaign to grow your law practice
If you want to grow your law practice on the path to reaching the size of a Boutique Law Practice, we have multiple ongoing client relationships that are doing just that! Moreover, they are having measurable successes in high-density, overly-competitive, difficult markets in recessionary conditions. Consider having us design and deploy a marketing website (or niche website) and a supporting and cost-effective PPC campaign that will enable you to add associates and paralegals by bringing you the new clients and cases that fund the entire growth process.
Call us at (888) 900-9078 to get started growing your law practice today.