Websites for Lawyers | Law Firms | Attorneys
Websites for lawyers –are digital online persona of your law practice the world sees. THe truth is, your online digital footprint is more who you are than your 'brick and mortar' office. Outside of your existing clients, opposing counsel, landlord, building neighbors, IT person, or even your office cleaning crew, who really 'knows' your law firm? Let's face it, for anyone not already in your close network, your Digital Persona is your Actual Persona. So let's make certain it is professional and flattering!
Websites for lawyers | Your Law Firm's website design can make the difference between having a good website and having a great online marketing tool for your law practice and its attorneys. Free Website Evaluation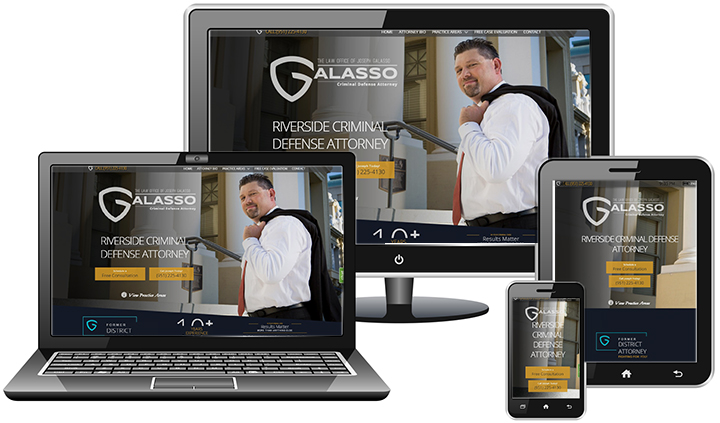 For almost 20 years, Law Sites has helped lawyers develop and project a professional web presence that also attracts the new clients and cases your practice needs to survive and grow.
---
Awesome, Affordable Custom-Branded Website Designs
Our lawyer website designs are designed to convey a professional image, keep visitor's attention, showcase your law practice's unique legal services and convert your potential visitors into clients. We've hundreds of websites built for attorneys over the years resulting in knowing what law firm website designs perform better at getting legal services shoppers' attention; keeps their attention; and results in more conversions.
---
Do you Have an Existing Website in Need of a Makeover?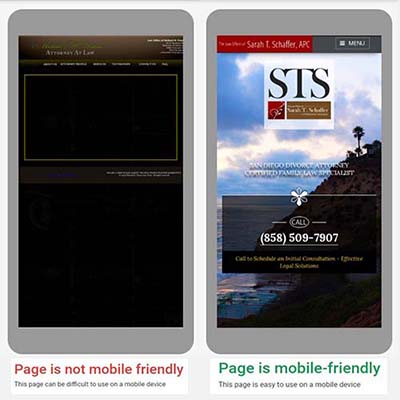 An outdated lawyer website needing a makeover is common. Many lawyers got the 'marketing bug,' 1, 2 or 5-years ago when their current website was designed and published. Then, seemingly overnight, the website is now 'dated,' or worse. Worse would be a FLASH player that is now a "black hole" like the website on the phone to the right. Adobe Flash is an avenue for hackers, so modern browsers, and mobile devices don't support the platform. A website with Flash or that is not 'Mobile-Friendly' might get a huge ranking hit, or de-listing from Google Search Results on mobile devices and maybe on desktops computers too. A website makeover can address all these issues quickly and affordably.
Each year, we get new clients resulting from the "contract from hell" with a legal website publisher. These contracts unravel over frustration getting content changes, lack of website performance, and over the monthly fees that comes to a head when the multi-year contract is up for renewal. The lawyer, seeing little or no ROI, will negotiate for a lower cost and shorter term. It rarely works out. As these contracts near default, some lawyers learn they never owned the Domain (e.g. CliffordLaw.com) that is the Internet address of their law firm! Often the site design and content is held hostage for the continued pricey monthly-fees, while the publisher will concede to transfer just the domain name (no website) for a one-time, balloon-payment buy-out. Sometimes $20,000!
Few lawyers need a new website from scratch, unless they are branching out into a new law section, or had a horrible contract and the domain name of the website (e.g. ClarkLaw.com) was held hostage for a pricey "buy out." Over the years, we had many lawyers who were in fights with FindLaw (Thomas Reuters), Web.com and others to where the lawyer thought the publisher would agree to a last-ditch offer, but didn't. In fact, as many of these stories played out, the website publisher owen the domain name (lawyer was shocked), and one day the site was not there. Gone. Worse, it had an embarassing 'splash page' that existing clients were surely going to see.
If you are in a "fight" (like above) we have some immediate 'same-day' creative solutions. Call us before your website goes "black."
---
All Law Sites Websites are:
Designed for Law Firms

We cater exclusively to lawyers.

Search Engine Friendly

Our SEO-tuned websites are found by new clients.

Client Friendly

Visually designed to keep and convert visitors into clients.

Mobile Frinedly

100% device-responsive: desktop, tablets, & smartphones.

Secure

All websites HTTPS secure (SSL Certificate).

Fast Loading

Google expects —and— Visitors appreciate FAST.
---
We Follow Your Lead -or- We Can Lead you to a Stunning Design
We will design a custom design based on your likes and inputs. We can incorporate colors, and design ideas from websites you like, or you can look through 100's of website design elements we have in libraries and pick what you like about this or that. On the other hand, some lawyers will ask us to create a custom design (our 'take') of what we think they will like. Once completed, we can review and brainstorm the design tweaking it to exactly how you want it.
---
All Websites Professionally SEO "Dialed-In"
Once your website is dialed-in — and is visually stunning — we then dial-in all necessary SEO "search engine friendly" settings for the overall website –AND– each page of your website. We are expert SEO Attorney Internet marketing pros. Every law firm website is SEO coded such that your website content is properly indexed by the search engine spiders from Google and Bing. We build websites for lawyers that rank well on Google Search for the keyword search phrases we will agree to target to bring you new clients and cases.
Call Us (888) 900-9078 — (7am — 7pm – PST) — 7-Days a Week
We are attorney marketing geeks – not obnoxious salespeople. Call us. We can talk over your goals and concerns in as much depth as you're wanting to explore. No pressure. We won't abuse your trust by making uninvited future return calls to your home, cell or back-office number. No regrets. If you, like many lawyers, find yourself contimplating your attorney marketing dilemma over a quiet holiday or late at night, feel free to text us at (714) 381-9025 (24/7/365). We'll get back to you soonest — maybe right now — while this is on your mind. No time like the present.